WHY BEING TOGETHER AS A CHURCH IS IMPORTANT
By Pastor Mike Andrews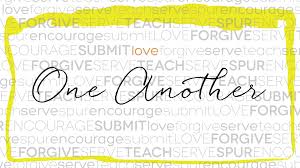 Poem: AS THE TWIG IS BENT
A little girl with golden curls, her happy face aglow, Said, "It's time for Bible class. Please, Daddy, won't you go? They teach us there of Jesus' love, and how He died for all,And how He wants to save the ones who listen to His call." "Oh no", said Daddy, "not today. I've worked hard all week, And I must have one day of rest. I'm going to the creek. For there I can relax and rest, and fishing's fine they say. So run along, don't bother me. We'll worship God some day." Later on, when years have passed and Dad's life is almost through, He finds the time to worship God, but what does daughter do? She says, "Oh, Daddy, not today. I stayed up 'most all night, And I've just got to have some sleep. Besides, I look a fright." Then Daddy lifts a trembling hand to brush away his tears, And hears that childhood voice again, distinctly through the years, As a little girl with golden curls, her happy face aglow, Said, "It's time for Bible class. Please, Daddy, won't you go?"
1. BEING TOGETHER HELPS US TO BE A STRONGER PILLAR OF THE TRUTH. "These things I write to you, though I hope to come to you shortly; but if I am delayed, I write so that you may know how you ought to conduct yourself in the house of God, which is the church of the living God, the pillar and ground of the truth." 1 Tim 3:14-15
2. BEING TOGETHER HELPS TO BE ACTIVE AND BUILDS THE BODY UNDER HIS GRACE. "but, speaking the truth in love, may grow up in all things into Him who is the head—Christ from whom the whole body, joined and knit together by what every joint supplies, according to the effective working by which every part does its share, causes growth of the body for the edifying of itself in love." Eph 4:15-16
3. BEING TOGETHER BUILDS STRENGTH BY HOLDING FAST TO THE HOPE AND NOT FALLING AWAY. "Let us hold fast the confession of our hope without wavering, for He who promised is faithful. And let us consider one another in order to stir up love and good works, not forsaking the assembling of ourselves together, as is the manner of some, but exhorting one another, and so much the more as you see the Day approaching." Heb 10:23-25
4. BEING TOGETHER GIVES US THE ABILITY TO HELP COMFORT AND EDIFY ONE ANOTHER. "Therefore comfort each other and edify one another, just as you also are doing." 1 Thess 5:11
5. BEING TOGETHER STRENGTHENS THE ELDERS TO PROPERLY FULFILL THEIR GOD GIVEN CALL. "Obey those who rule over you, and be submissive, for they watch out for your souls, as those who must give account. Let them do so with joy and not with grief, for that would be unprofitable for you." Heb 13:17
Remember CBC Family! We do this as we do life together because we await this Great King to return in spectacular fashion, as He did when He left before the church was established. We are ordinary people coming together to fellowship, sing, break bread around the Lord's Table, and hear God's Word preached by their pastor/shepherd. Ordinary people coming together under the Gospel, without hesitation or reservations, to proclaim His excellent greatness. This is why we gather together as the saints of old did. We gather because of our Lord and King who gloriously saved us from the Father's wrath. And nothing should ever get in the way of that. We are called to be love contributors, not just love consumers. We need each other's love, because Christ has made us one body. We are ordinary people doing what we love to do as a local body of believers; worshipping our Great God & King together.
To God be the glory! SDG